I really am not a fan of rollercoasters, fast ones, ones with drops, or ones that go upside down. Frankly, most of the time, I really do not like them. This week my journey on the Rollercoaster of Empowerment was not an enjoyable experience for me either. I think I spent most of the week being in sheer panic like this boy.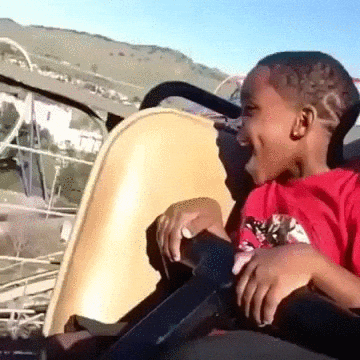 This year, I have implemented a games based, word study program. I was so excited last week when I pulled out alphabet dice and a student said, "I love it when those dice come out! The games are so fun!". So of course, I had to run down the hall to my neighbour teacher, and fellow IMMOOCer, and share my excitement with her. When I was done, she replied, "Are your students just engaged or are they empowered?". This was the start of a weeklong ride on the Rollercoaster of Empowerment.
I left that conversation feeling a bit out of sorts. I didn't know how to answer that question. I started struggling with the idea of if my students were actually empowered. I began questioning my teaching – was I really only engaging my students? It was eating me up inside. I went home that night and watched a video reflection from another IMMOOC participant who talked about how their students were relating their learning to their golf game. I knew his students were older than my Grade 2s, but my students don't make connections often like that. I was at the top of the rollercoaster, right before going down the biggest drop – I sure was confused and questioning myself as an educator.
The rollercoaster ride continued for the next few days in my head with small turns and ups and downs. I was still grappling with what does empowerment look like in a Grade 2 classroom? I started to think that empowerment must look different in different subject areas and in different grades. Was I empowering my students and just being too hard on myself?
The slowing down of the rollercoaster began towards the end of the week, when I had to ask my school IMMOOC crew to help me out. I admitted my fear –  my students are engaged, but I may not be empowering them. When I finally laid it out, an amazing colleague told me she thought empowerment is about a student feeling like they are in charge of their learning. She reminded me that choice is a form of empowerment and it could be as small as choosing a successful spot in Daily 5. She left me with a beautiful message,
"When a student feels that they are important – that is empowerment, too. I know you do all of these things and many more".
I thank you Jen Pedersen for helping me see that I do empower my students and allowing me to end my ride on the crazy Rollercoaster of Empowerment.
My rollercoaster ride has made me realize that empowerment is different across classrooms and schools. I do empower my students everyday – they are constantly making choices to "guide their own learning", as George suggests. From choosing a spot to work best, what tool to write with, what math activity they will do that day, what books they will read, how they will represent their learning, what they want to learn, to creating and teaching others – all of these provide opportunities for the best in each of my students to become visible.
I sure am glad to have survived the ride on the Rollercoaster of Empowerment, but the journey has not made me any more fond of rollercoasters.